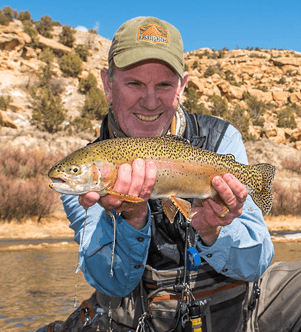 Oct 19 - 23, 2023
Couple's Trip Hosted by Pat and Kim Dorsey
TRAVEL DETAILS AND PRICING
3 days and 4 nights $3520.00 per couple
Anglers on this trip can plan on arriving at the Soaring Eagle Lodge on October 19th. Dinner will be provided this night, so it's recommended to arrive between 5-6PM. The group will leave the lodge on the morning of October 23rd.
INCLUDES
3 days of guided float fishing (2 anglers per one guide)
4 nights at the Soaring Eagle Lodge (2 anglers per one room)
First Class meals
Flies and Tackle while on the guided fishing trip
Private access to the Recreation Room
Private access to fishing out front of the lodge
DOES NOT INCLUDE
Travel from your home to the Soaring Eagle lodge
Gratuities for the guides and staff
Liquor, Beer and Wine
New Mexico Fishing License
Destination Fly Fishing Trip To The San Juan River In New Mexico With Pat and Kim Dorsey
Getaway to New Mexico on this couples fly fishing excursion to the San Juan River! Stay with us for four nights at the Soaring Eagle Lodge, one of the premier fly fishing destinations in the Southwest. There, you'll find comfortable accommodations and first-class meals all included. And with fishing available just steps from the lodge, it's the perfect place for an angler to kick back on a mini-vacation. Your hosts Pat and Kim Dorsey will help ensure a memorable fishing trip. Guided float fishing is the main attraction, accessing hatches you just can't get to from dry land or by wading. World-class wade fishing is also available.
Accomodations at the lodge were built with the angler in mind, complete with indoor and outdoor wader and rod drying racks. They're also cozy with satellite TV, a full-size refrigerator, kitchen amenities and wireless internet. So you can get away without feeling away -- and live the dream of waking up to go fishin' and have little or no commute whatsoever.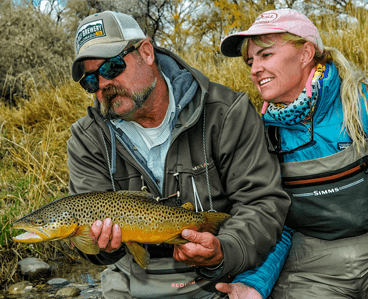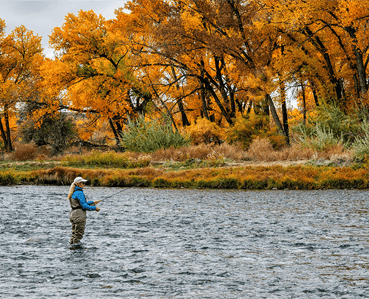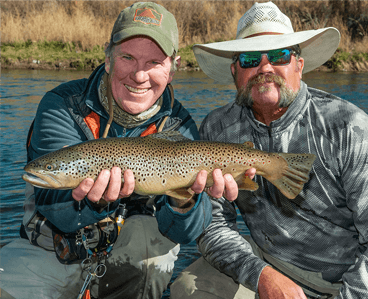 Why Choose A Fly Fishing Trip Hosted By Pat Dorsey?
When you take a guided fishing trip hosted by Pat Dorsey, you'll partner with experts around the world for accommodations and fishing success that you'll always remember. That means you can focus on the business at hand: the business of catching fish! All local travel arrangements, meals and lodging are included. You'll enjoy the tastiest meals and refreshing accommodations, so you're charged up each morning for a rewarding day on the water. We'll help you know what to pack, including all the gear and apparel you'll need. And we'll get you to the right spot for the best fishing according to the day's weather and conditions. We make it easy to have a great day fishing in exotic, beautiful places. Travel in style and fish like a local with fly fishing trips hosted by Pat Dorsey.
Book your trip to the San Juan River today. Just use the form below. We make dream fishing vacations a reality every year. Come join us on our next adventure!