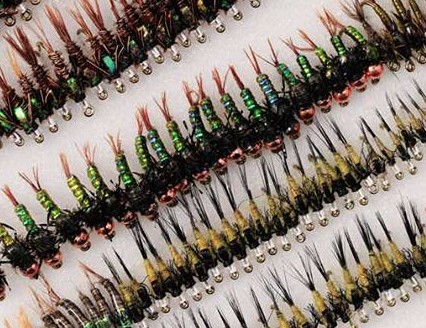 Premier Colorado Fly Fishing
Guide Service
Fly fishing throughout the Colorado Rocky Mountains is the stuff that dreams are made of. Pat Dorsey has been living that dream for over 25 years. Pat Dorsey is devoted to introducing new anglers to fly fishing and helping experienced anglers improve their skill-set and productivity on the water. In fact, it's in working with others to improve their fly fishing skills along with their knowledge of hatches, waters, techniques, and fly patterns that Pat has found his calling. When you're looking to enjoy the benefits that come from a guided Colorado fly fishing trip with a true professional, you're sure to enjoy the trip with Pat Dorsey.
Where Can You Go for Your Next Colorado Guided Fly Fishing Trip with Pat Dorsey?
Legendary tailwaters like the South Platte River in Cheesman Canyon, Deckers, and Charlie Meyers State Wildlife Area are just the beginning of Colorado fisheries that Pat Dorsey knows like his own backyard. Blue River and Williams Fork River are also worth checking out, and you can see what conditions are like on these and other waters when you visit Pat Dorsey's Stream Report. While spring, summer, and fall are typically understood as prime fly fishing seasons, you can enjoy the expertise and guidance of Pat Dorsey during the winter as when the right knowledge and some warm gear can provide peaceful, secluded, and productive fly fishing.
Pat Dorsey Spends Over 200 Days a Year on the Water!
Pat Dorsey is the co-owner and lead guide for The Blue Quill Angler, a full-service fly shop and guide service based in Evergreen Colorado. Through his involvement with this premier fly fishing outfitter, Pat Dorsey ensures that each of their guides meets the highest standards of skill, experience, and professionalism. As one of the few Elite Simms Ambassadors in the state of Colorado and a member of the Sage Elite Pro Team, Orvis Pro Team, Yeti Pro Staff, Fish Pond, and Scientific Anglers Pro Staff, Pat Dorsey is highly qualified as a professional fly fishing guide. If you'd like to find out more of the knowledge and experience that Pat Dorsey offers, check out one of the books he's published including Tying and Fishing Tailwater Flies, Colorado Guide Flies, and Fly Fishing Tailwaters, or check out his DVD, Nymphing Strategies. You can also join Pat Dorsey's Fly Club or catch him at one of his speaking engagements.
BOOKS AND DVDS — LEARN EVEN MORE FROM PAT DORSEY
The goal of Pat Dorsey Fly Fishing is to share valuable information, tips, and techniques to improve your skills. When your fishing trip is over, your learning experience has just begun! You can purchase Pat's books, Tying and Fishing Tailwater Flies, Colorado Guide Flies, Fly Fishing Tailwaters, or his Nymphing Strategies instructional DVD. Dorsey is a trusted and well-known expert in the fly fishing community whose fishing articles have appeared in national publications. He also serves as Southwest Field Editor for Fly Fisherman Magazine.
Connect with Pat directly at patd@bluequillangler.com, or call the Blue Quill Angler at (303) 674-4700 to learn more!