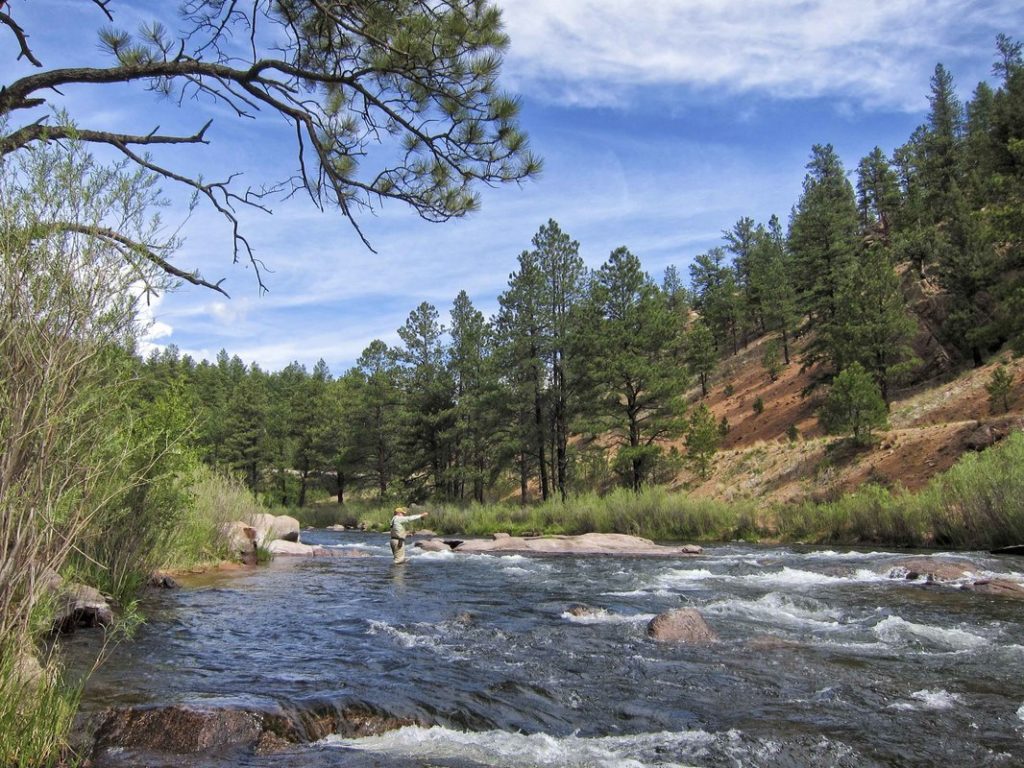 Effective Patterns:  #20-22 Mercury Midge, #20-22 Manhattan Midge, #20 Pale Olive Midge Larva, #22-24 Black Beauty, #22-24 Bling Midge, #22-24 Top Secret Midge, #22-24 Minute Midge, #22-24 Jujubee Midge, #22-24 Matt's Midge, #22-24 Griffith Gnat, and #24-26 Parachute Adams.
Colorado Fly Fishing Report for Deckers on the South Platte by Pat Dorsey
The mileage below Cheesman Canyon is the renowned Deckers area, a world-class fishery with easy access and lots of opportunity. The best fishing is from Bridge Crossing to the lower boundary of the Tee Pee Club. Like Cheesman Canyon, the fish are challenging to catch, and there is no substitution for a good dead drift. Deckers can offer good dry fly fishing at times but like upstream in the "The Canyon" a good nympher will catch the majority of fish. Anglers can expect to catch assortment of browns and rainbows with some exceeding 20 inches. The river is made up of riffles, runs, shelves and gravel bars, and nice pocket water. The ideal flow for Deckers is between 150 and 400 cfs. The regulations are two trout over 16 inches in length and flies and lures only. Please consider catch and release on all fish caught in the area.
Deckers is a world-renowned stretch of the South Platte River. There are miles of public water to fish in and around the hamlet of Deckers.
Tips & Other Information:
Fishing in and around the Deckers area is fair with the low flows and ice cold water. Water temps have been 34 degrees in the morning, warming up to 37-38 degrees in the afternoon. Slush-ice has been a problem on the  river, especially with clear, cold nights.  Many sections of the lower river are frozen, so plan your trip accordingly.  On clear nights, the temperature is dipping well below zero and there is a lot of slush ice on the upper river too. There is no need to be on the river before 10 a.m. right now, its simply a waste of time!! Dead drifting tiny midge larvae and pupae in the slow, deep pools is your best bet right now.  Sight fishing to pods of fish  increases your odds, as opposed to rolling the dice trying to get an individual fish to eat. Matt's Midge, Parachute Adams, and Griffith Gnats are fooling a few fish on the surface during the height of the hatch. There have been a surprising number of rising fish in the afternoon in the slower pools and glassy tailouts.