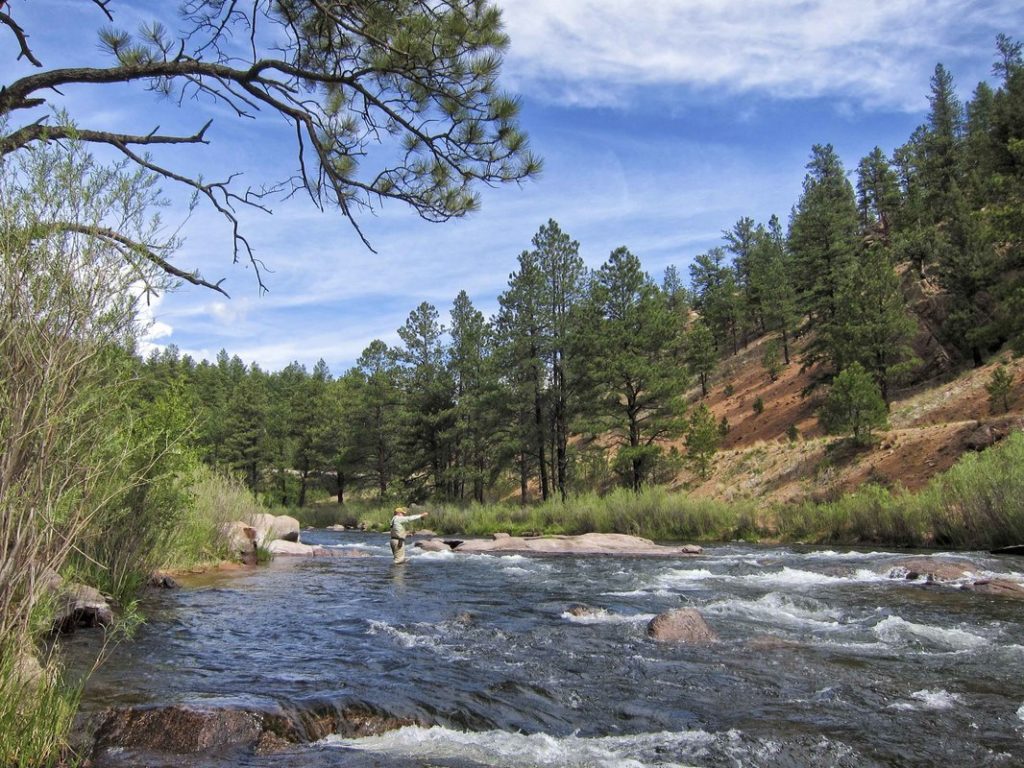 Effective Patterns:  #20-22 Mercury Midge, #20-22 Manhattan Midge, #22-24 Chocolate Foam Wing Emerger, #20-22 JujuBaetis, #22 Stalcup's Baetis, #20 Mercury Flashback PT, #20-22 Sparkle Wing RS 2, #18 Micro Egg, #20-22 Griffith Gnat, #20-22 Matt's Midge, #20-22 Mathew's Sparkle Dun, #24 Stalcup's Trico CDC Biot Comparadun, and #20-24 Parachute Adams.
Colorado Fly Fishing Report for Deckers on the South Platte by Pat Dorsey
The mileage below Cheesman Canyon is the renowned Deckers area, a world-class fishery with easy access and lots of opportunity. The best fishing is from Bridge Crossing to the lower boundary of the Tee Pee Club. Like Cheesman Canyon, the fish are challenging to catch, and there is no substitution for a good dead drift. Deckers can offer good dry fly fishing at times but like upstream in the "The Canyon" a good nympher will catch the majority of fish. Anglers can expect to catch assortment of browns and rainbows with some exceeding 20 inches. The river is made up of riffles, runs, shelves and gravel bars, and nice pocket water. The ideal flow for Deckers is between 150 and 400 cfs. The regulations are two trout over 16 inches in length and flies and lures only. Please consider catch and release on all fish caught in the area.
Deckers is a world-renowned stretch of the South Platte River. There are miles of public water to fish in and around the hamlet of Deckers.
Tips & Other Information:
Cheesman Reservoir is currently 45 percent full, so Denver Water is keeping the outflows at 80 cfs until further notice. Denver Water said they might drop outflows to 35 cfs, depending on inflows above the reservoir. The tributaries will add a little extra water, but not much to speak of. Anglers should prepare themselves for technical fishing and sporadic midges and blue-winged olive hatches. Flies are of choice are Mercury Midges, Jujubaetis, and Chocolate Foam Wing Emergers. During the "olive" hatches, it's hard to go wrong with a Mathew's Sparkle Dun in a size 22.  Fishing is fair right now with the low flows; so plan on working hard for your fish. Pray for lots of snow!