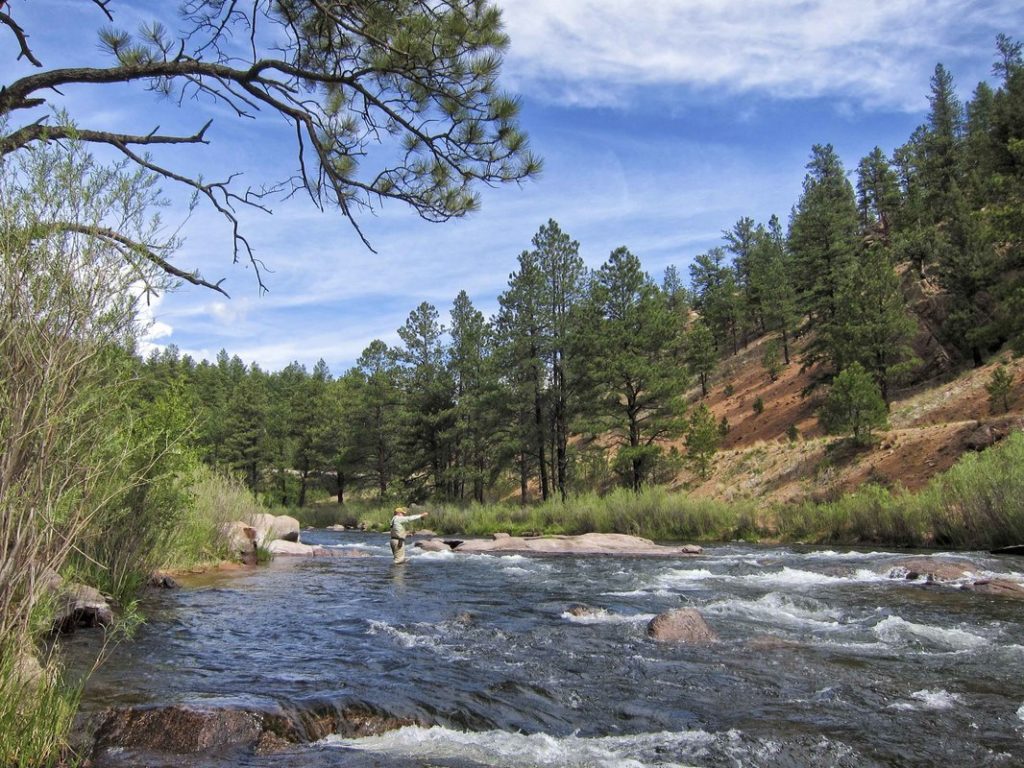 Effective Patterns:  #Top Secret Baetis, #20-22 Jujubaetis, #22 Stalcup's Baetis, #18-20 Buckskin, #16 Micro San Juan Worm, #16 orange and olive UV Scud, #20-22 Sparkle Wing RS 2, #20-22 Chocolate Foam Wing Emerger, Barr Emerger, PMD, Mitchell's Split Case PMD, #20 Mathew's Sparkle Dun (BWO and PMD), #10 Amy's Ant, #16 Elk Hair Caddis, and Stalcup's CDC Trico Biot Comparadun.
Colorado Fly Fishing Report for Deckers on the South Platte by Pat Dorsey
The mileage below Cheesman Canyon is the renowned Deckers area, a world-class fishery with easy access and lots of opportunity. The best fishing is from Bridge Crossing to the lower boundary of the Tee Pee Club. Like Cheesman Canyon, the fish are challenging to catch, and there is no substitution for a good dead drift. Deckers can offer good dry fly fishing at times but like upstream in the "The Canyon" a good nympher will catch the majority of fish. Anglers can expect to catch assortment of browns and rainbows with some exceeding 20 inches. The river is made up of riffles, runs, shelves and gravel bars, and nice pocket water. The ideal flow for Deckers is between 150 and 400 cfs. The regulations are two trout over 16 inches in length and flies and lures only. Please consider catch and release on all fish caught in the area.
Deckers is a world-renowned stretch of the South Platte River. There are miles of public water to fish in and around the hamlet of Deckers.
Tips & Other Information:
On July 31, 2023, at 4 p.m. Cheesman Canyon experienced heavy rainfall that led to many sediment and granite slides that entered the river. There are approximately 20 sediment slides  which have clogged the substrate and filled in a lot of the deeper runs and pools. The worst hit areas are the Emerald Pool, Rainbow Pool and Johnson's Camp, but there are substantial washouts above and below these areas too. The granite is on the move, so the areas below each sediment fan is moving fast and covering the substrate.
Deckers is still off-colored but should clear up in the days to come. There are a few granite slides near Lone Rock Campground and near the Bend Pool that will affect areas below. Deckers got high, 630 cfs, from two different waves of storms, but the flow has receded. There is debris everywhere…I am communicating with Denver Water and Trout Unlimited and we are trying to get a flush of some sort, but unfortunately, the low lying reservoirs (Strontia Springs and Chatfield Reservoir) are full or near capacity and there is no room to move water. As new information becomes available, I will share it with everyone…8/4/31