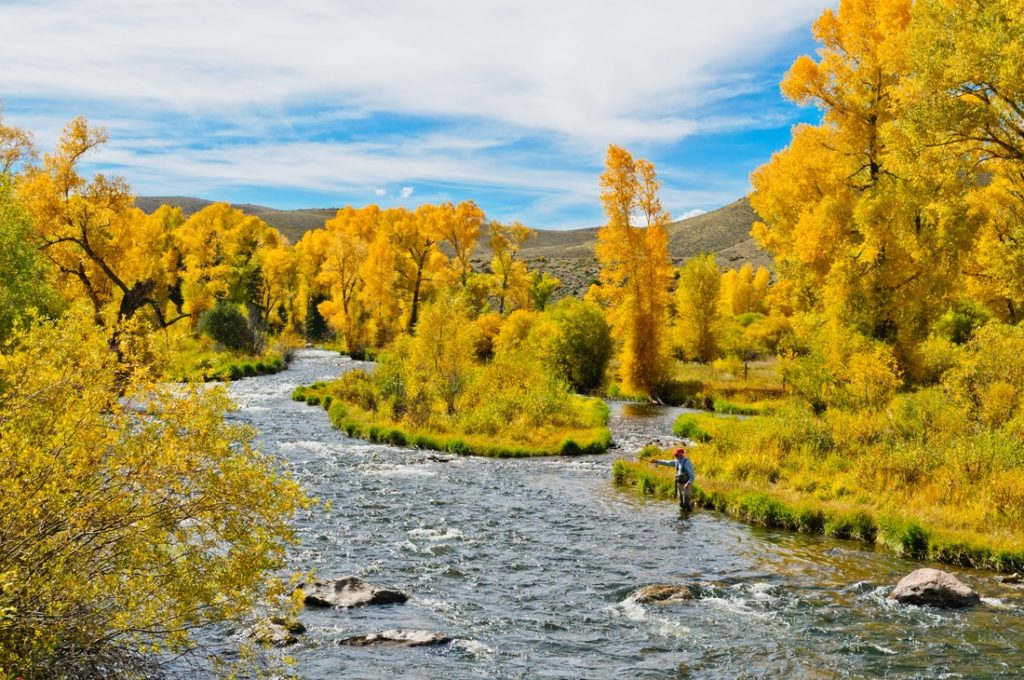 Effective Patterns:  #20-22 Sparkle Wing RS 2, #20 Mercury Midge, #22 Black Beauty, #20 Red Larva, #20 Manhattan Midge, #22 Stalcup's Baetis, #14-16 San Juan Worm, #20-22 Juju Baetis, #20-24 Chocolate Foam Wing Emerger, #18 Hot Tail Flash Egg, #18-20 Mercury Pheasant Tail, #20-24 RS 2, #18-20 Buckskin, #18-20 Sparkle Dun, and #22-26 Parachute Adams.
Fly Fishing Conditions & Tips from Pat Dorsey for the Williams Fork River
The Williams Fork River is a top-notch fishery of its own. This beautiful fishery is nestled between the Williams Peaks and Middle Park and is truly a fly-fishing paradise. The two-mile stretch between the upper boundary of the Kemp Unit and the confluence of the Colorado River is a mixture or riffles, runs, and pocket water with one of the best populations of brown trout in the "west". A 30-minute hike to the river keeps the crowds to a minimum. Anglers can catch trout with a variety of methods including nymphs, streamers, and dry flies. The hatches include caddis, blue-winged olives, midges, Tricos, and red quills. Being a tributary of the Colorado River-spring and fall-spawn runs bring some "lunkers" into the stream. Ideal flows for the "Fork" are between 100 and 250 cfs. The regulations are flies and lures only and all fish must be returned to the water immediately.
The Williams Fork is one of the prettiest places on the planet. This Williams Fork is proof that trout don't live in ugly places.
Tips & Other Information:
Fishing has been good on the Williams Fork. Anglers can expect to see hatches of midges, Tricos, and blue-winged olives. Nymphing has been good with an assortment of mayfly and caddis nymphs, and dry fly fishing has been good with Parachute Adams and Sparkle Duns.
Note:  Colorado Parks and Wildlife and Denver Water are conducting a stream restoration project on the Williams Fork River (below the reservoir to the confluence of the Colorado) that will begin on October 1, 2019 and last 4 to 6 weeks. Expect heavy equipment in the river, low flows, and muddy water for several weeks. I am told they will begin working at 7:00 a.m. each morning and continue working throughout the day, so plan accordingly. I would highly recommend another location, as the fishing will be poor with the muddy water.  This will also affect the clarity on the Colorado River for miles.  Your best bet is to fish Pumphouse or above the confluence of the Williams Fork in Lone Buck, Paul Gilbert, etc.