Cheesman Reservoir Expected to Spill in a Few Days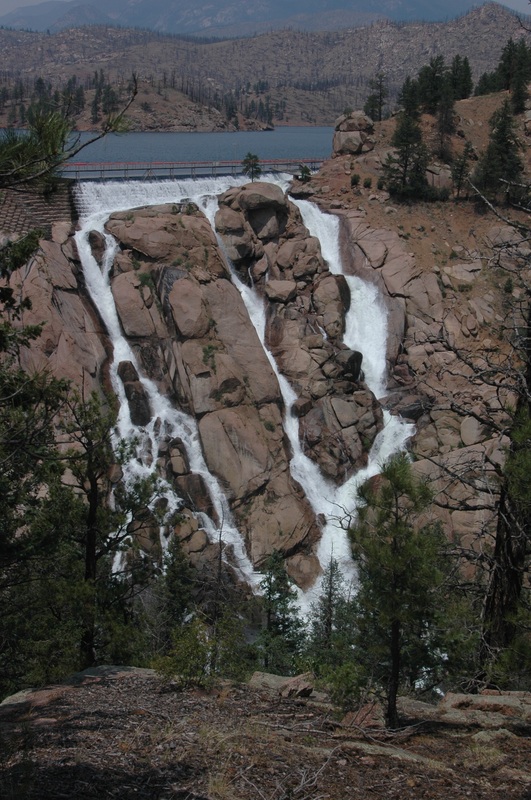 Cheesman Reservoir is only inches from flowing over the spillway. Currently the reservoir is 1300 acre feet from reaching full capacity. 2014 will be a year to remember because we have above average snowpack (135%) and above average storage in the South Platte corridor. This is great news for South Platte anglers and the trout that reside in the mileage below Cheesman Reservoir.
South Platte anglers can expect the flows below Cheesman Reservoir to gradually rise for the next month of so. It is entirely possible to see flows reach 800 cfs during the peak of run-off. River levels will vary based on warm-weather trends. If it gets hot, the flows will gradually rise, and to the contrary; if a cold snap occurs, look for the flows to recede. Water temperatures will gradually rise from the lake's surface water (the coldest water is on the bottom of the lake and the warmest water is on the surface of the lake) entering the tailrace below the dam. This should really improve fishing! The warmer water will ramp up the trout's metabolism…especially the brown trout.
This can be a doubled-edged sword however, as the water temperatures can get too warm! The good news is that the Denver Water Board is going to closely manage the water temperatures to protect the resource."Our goal is to keep temperatures below 65 degrees, and stay in the 50 – 60 degree range when possible. That is a goal under the South Platte Protection Plan, and we shoot for that every year.This year, we will have water coming out from 3 points – spillway, bottom valves, and mid-level valve. With those three points we should be able to manage temperatures", said Dave Bennett, from the Denver Water Board.
Share this Post