Run-Off has Peaked and Flows are Beginning to Recede
2014 will be a year to remember with Colorado's above-average snowpack and raging rivers. Streams state-wide have been above their normal historic levels for well over a month. During these higher spates, many anglers have opted to fish Colorado's renowned stillwaters to overcome the run-off blues. The Chironomid fishing has been nothing short of excellent for lake enthusiasts as of late.
Other fly-fishers have targeted the state's world-class tailwaters to support their addiction. While the flows have been high on the majority of Colorado's deep bottom-release tailwaters, the fishing has been good-to-excellent during spring run-off. Tailwater trout are fat and happy with higher flows, ideal water temperatures, and a smorgasbord of food to feast on. Downstream irrigation demand will keep ourtailwaters flowing at optimum levels for the remainder of the summer season.

Fishing on Colorado's renowned freestones (Colorado, Gunnison, Roaring Fork, etc.) has been a whole different story as most of them have been unfishable for several weeks due to high, roily water. There is light at the end of the tunnel, however; as river levels are beginning to drop. As a general rule, spring run-off peaks and begin to recede by Fathers Day. This is especially true with precipitation-fed trout streams (freestones).

Traditionally the edges of an unregulated trout stream begin to clear first, therefore; anglers will need to target the clear-water margins along the stream banks. I would recommend fishing the edges with a large attractor (stonefly nymph, San Juan Worm, crane fly, leech, etc.) and trail a smaller caddis larva (pupa) or mayfly nymph. Flows typically drop fast once run-off has peaked and the clarity improves by the day.
Dry fly fishing will improve as the flows continue to drop and summer hatches of pale morning duns and green drakes will get the fish looking up. Anglers should carry an ample supply of PMD and green drake nymphs, as well as, an assortment of dun imitations to match the hatch. Anglers can expect to find excellent dry fly fishing clear throughout the summer-season with above average flows.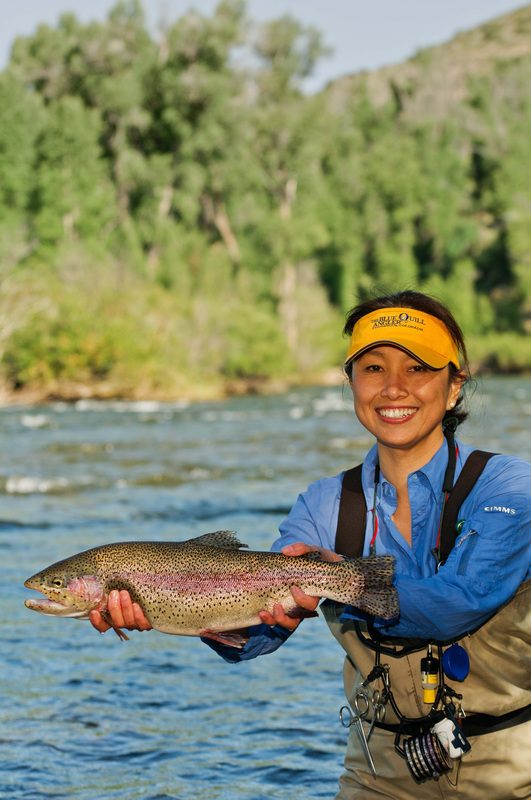 Grace Smith landed this nice Blue River Rainbow above Green Mountain Reservoir. Once flows begin to recede and clear, fishing can be excellent during the post run-off period. Mark Adams photo
Here is an up-to-date list of river levels on some of the most popular fishing destinations in Colorado. Hopefully this will help you plan your next fishing adventure. Things are shaping up nicely and fishing should be excellent for the remainder of the year!
South Platte below Spinney Reservoir, 361 cfs
South Platte below Elevenmile Reservoir 275 cfs
South Platte below Cheesman Reservoir 679 cfs
Blue below Dillon Reservoir 1130 cfs
Colorado at Parshall 2311 cfs
Colorado near Kremmling 4440
Eagle near Gypsum 2770 cfs
Frying Pan below Ruedi Reservoir 237 cfs
Roaring Fork near Glenwood Springs 4110 cfs
Gunnison near Gunnison 2670
East near Almont 1660 cfs
Taylor below Taylor Park Reservoir 459 cfs
Conejos below Platoro Reservoir 301 cfs
Rio Grand near Creed 1100 cfs
Arkansas below Salida 2720 cfs
Animas near Durango 2050
Delores below McPhee Reservoir 65 cfs
Yampa below Stagecoach Reservoir 98 cfs
Yampa at Steamboat 2000 cfs
Share this Post