Tennessee's South Holston and Watauga Rivers are Among the Best Tailwaters in the US
Last week I fished the South Holston and Watauga Rivers in eastern Tennessee. What a special treat! The South Holston–the SoHo as the locals refer to it–is a world-class tailwater that supports a rich and diversified aquatic life, as well as, huge populations of trout. The Watauga is not shabby either; it has an impressive biomass too!
One of the benefits to traveling to other cities for speaking engagements is I get to sneak in a day or two of fishing while I'm in the area. That said, I hooked up with Orvis Endorsed Guides Matt Miles and Patrick Fulkrod for a couple days of fly fishing in Tennessee.
Miles and Fulkrod are two of the best fly fishing guides in the area. Miles specializes in a wide array of gamefish including small mouth bass, tiger muskie, and trout. Fulkrod is a tailwater junkie, specializing in fooling trout on both the Watauga and South Holston Rivers. Fulkrod was named the Orvis Guide of the Year in 2013, which is one of the most prestigious awards in the fly fishing industry.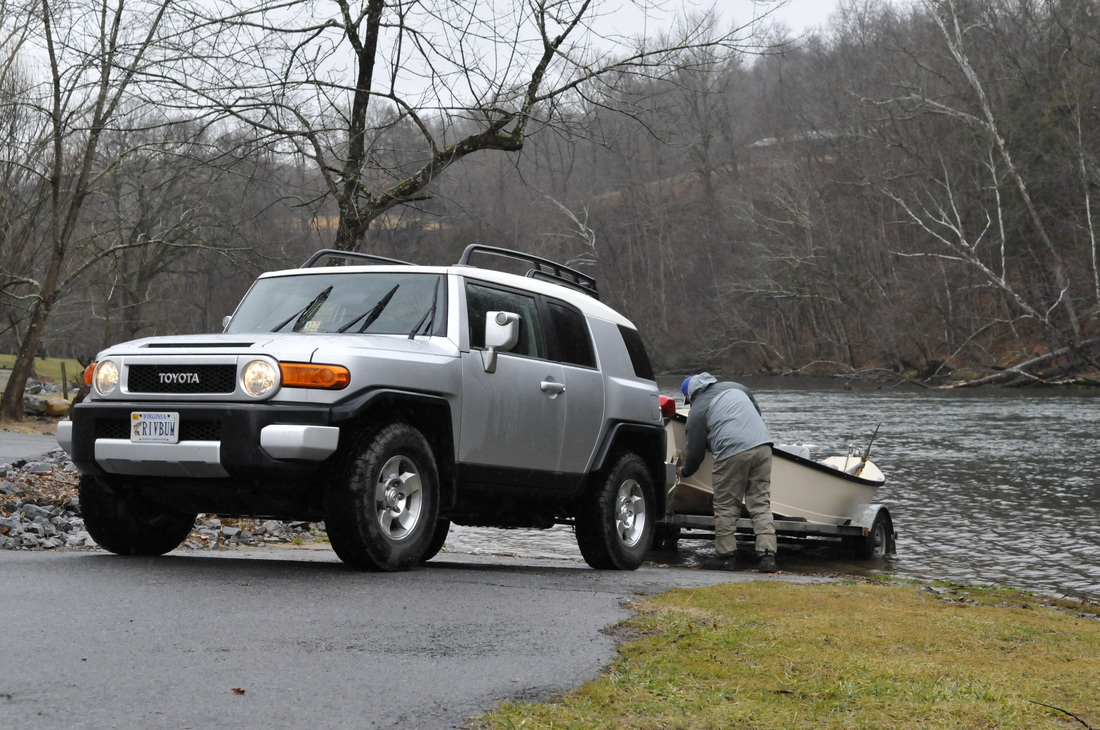 Matt Miles prepares to dump his drift boat into the Wautaga River. This fish were already feeding on the surface when we arrived.
My first visit to the Watauga was last year. I could hardly wait to get back. It was everything that I had hoped for and more! Miles and I fooled trout after trout with tiny dry flies (midges and blue-winged olives). It was cold and nasty out, which became a distinct advantage because there was not another angler in sight As an added bonus, the inclement weather produced epic dry fly conditions, delaying the development of the midges and blue winged olives,keepingthem on the water for longer periods,incomparison to a bright and sunny day. There were "heads" up everywhere when we arrived–nymphng was not even a consideration! Miles and I caught a mixed bag of rainbows and browns in the 8-14 inch range. The fish rose all day–it was one of the best dry fly days I've had in a long time!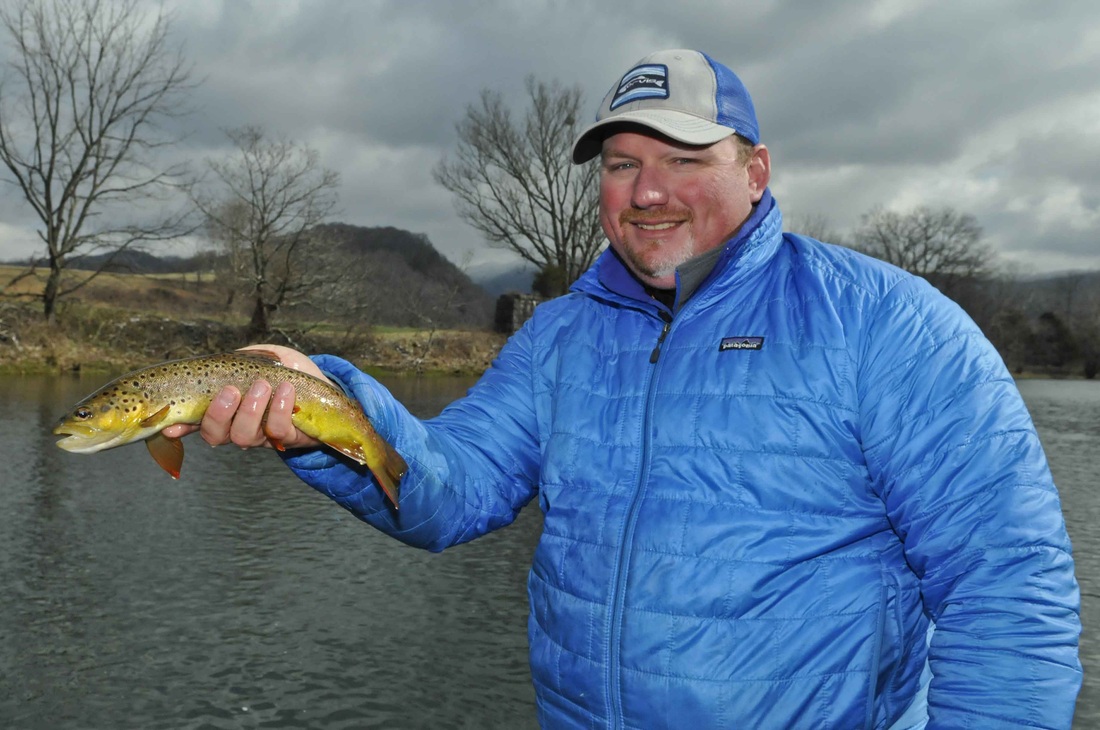 Matt Miles is all smiles after fooling this beautiful brown trout on the Watauga River.
The following day, Fulkrod joined Miles, and I. We floated the Watauga in the morning and the South Holston in the afternoon. We fooled trout on both dry flies and nymphs on the Watauga.
Mid-day, we grabbed some lunch and headed to the South Holston. It was a memorable afternoon because of the good company and cooperative trout. The South Holston has become one of my favorite tailwaters. If you are fortunate enough to fish the South Holston, it won't take you long to figure out why this stream is world-class!The Tennessee Wildlife Resource Agency estimates that there are between 5000-6000 trout per mile.The fish are stacked up on this river like cord wood and they are generally eager to eat anartificialfly. What else could you ask for?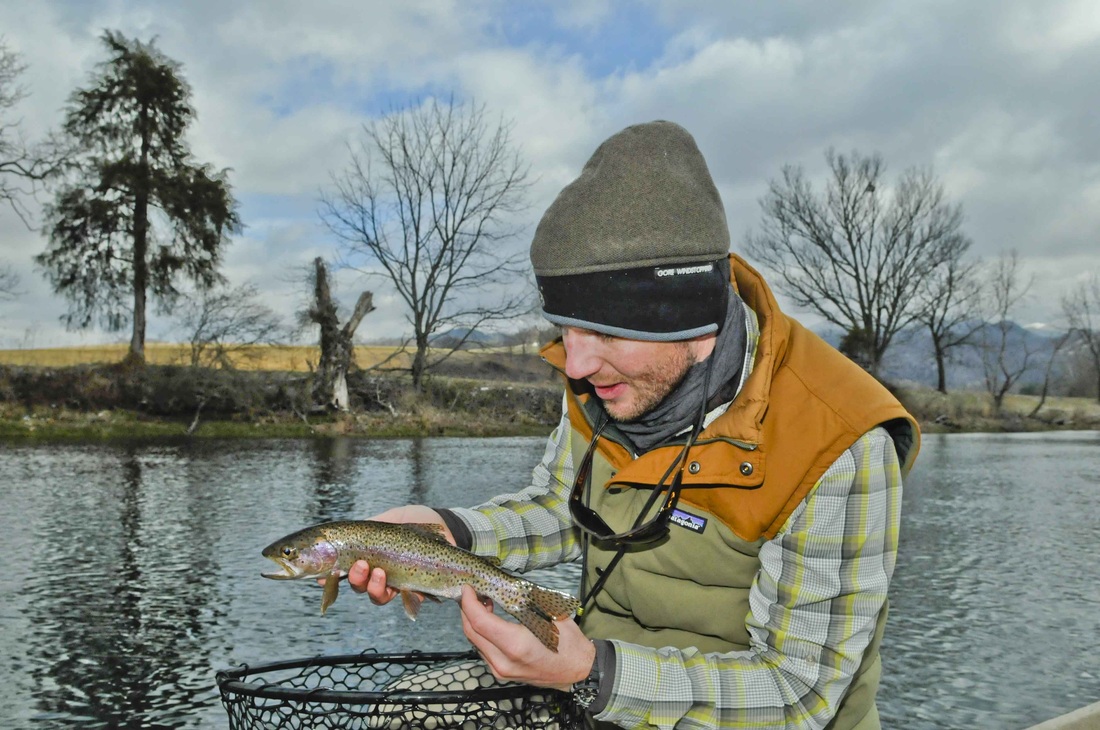 Patrick Fulkrod admires a beautiful rainbow trout that was fooled with a tiny midge-nymph.
You may reach Matt Miles at matt@mattmilesflyfishing.com and Patrick Fulkrod at patrick@mountainsportsltd.com. If you are in the area, take advantage of these great guides; they will provide an exceptional outdoor experience.
Share this Post