Blue Quill Angler and Rio Manso Lodge Team Up for a Patagonia Adventure in December 2016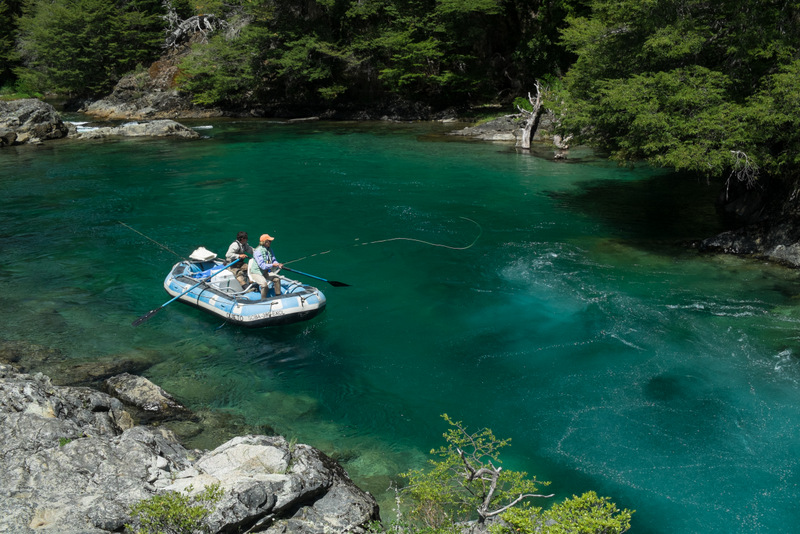 Mark Lance photo
​Rio Manso Lodge is located in northern Patagonia near the border of Chile. Nestled in Argentina's Nahuel Huapi National Park along the banks of Lake Hess and the Rio Manso, the team of professionals at Rio Manso Lodge will make your Patagonia experience a trip to remember!
Recognized as the Orvis 2015 International Destination of the Year, Rio Manso Lodge provides all the comforts of home. Each of the lodge's 9 rooms face northwest with spectacular views of Lago Hess and the Andes Mountains. If the weather is clear, the mountains looks close enough to touch!
Each one of the rooms are comfortably appointed with either a king size or two full size beds and private bath. Some are equipped with a Jacuzzi as well. Many guests sleep with their windows open to let in the crisp, cool mountain air.
The lodge features a full wader room for tackle and waders, a fly tying area, a small, but well-equipped bar, and a spacious sitting area in front of a river stone fireplace. Many nights are cool enough to enjoy the warmth and comfort of a roaring fire. In the evening, the lodge serves cocktails and hors d'oeuvres in the main living area to cap off a great day!
Fly fishing in the heart of Patagonia is a unique experience. When you visit Rio Manso Lodge, you will have the opportunity to fish a variety of fisheries including small streams, large rivers, intimate spring creeks, and deep lakes where monster brown, hefty rainbow and trophy brook trout swim.
Mayfly and caddis hatches begin at the end of November and intensify in December producing some of the better dry fly fishing of the season. Early-to-middle December, anglers will experience dragonflies hatching on the lakes and rivers bringing up some the biggest fish to feed on the surface. Dragon fly nymphs and Wooly Buggers are also effective during this time frame.
When fishing the Rio Manso, a lot of your time is spent fishing with streamers and sinking lines. Hatches on most of the river are sporadic and the biggest fish are often enticed with streamers. There are several stretches of the river where nymphs are effective, especially on one of the beautiful spring creeks where sight casting to cruising fish can be a delightful change of pace.
Famous for its unique blend of big fish and technical fishing, the smooth, glassy currents near the channels of Lago Hess provide a great dry fly challenge to any angler. Similar in nature to a big spring creek, large fish often cruise the banks making this area a must-fish for any Rio Manso angler! Even though these fish can be extremely selective, many Rio Manso guests consider this their favorite area because some of the largest fish in the watershed are fooled in this area.
One of the jewels at Rio Manso Lodge is Lago Fonck. This four mile long stillwater offers big rainbows, browns and brook trout. Dragon flies, damsels, and caddisflies all hatch on the lake and trout cruise the lakeshore weed beds in search of a meal. This presents the perfect opportunity to fish with big dry flies or a streamer to fool these monsters. You'll fish the edges from a Carolina skiff, working the structure where rainbow, brook, and occasional the brown reside.
For more information, visit the lodge website: http://www.riomansolodge.com
Trip Details:
Dates: Sunday December 11 through Sunday December 18, 2016
Price: $4750.00
Our group will include 10 guests, plus Pat and Kim Dorsey
The above rates include airport transfers to and from Bariloche area, lodging, all meals and snacks, all beverages including wine and alcohol, laundry, internet, guided fishing (1 guide for every 2 anglers), fishing license, and non-fishing guided activities.
Not included in the pricing: Travel from your home to the lodge, personal fishing gear, terminal tackle, flies, leaders, gratuities for the staff and guides, long distance telephone calls, and massages (available upon request).
Share this Post