Success on several western tailwaters begins with carrying a thorough selection of Mysis Shrimp. Mysis Relicta Shrimp, commonly called Opossum Shrimp, or Mysis, are a major food source for trout, steelhead, salmon, smelt, sculpins, and many other game fish. Mysis shrimp naturally inhabit many lakes in British Columbia and have proven themselves to be a critical part of the ecosystem. In 1949 biologist began stocking Mysis Shrimp in other lakes and reservoirs to assist as a management tool for better growth rates for both trout and salmon.
Colorado Parks and Wildlife introduced Mysis Shrimp into Dillon, Taylor Park, and Ruedi Reservoirs in the early 1970's to feed the Kokanee Salmon residing in the shallow coves and bays. At the time, the Colorado Division of Wildlife had no idea of the impact these shrimp would have on the trout residing below these previously mentioned dams. In one sense the stocking of Mysis Shrimp backfired because they feed on zooplankton, which is a key food organism for small Kokanee and juvenile trout. Unfortunately Mysis Shrimp are light-sensitive and prefer water temperatures of 57 degrees or lower. Mysis migrate daily—residing in the darker deep areas during the day, and swimming to the shallow water at night. As it turns out, the Kokanee Salmon's migratory behavior is exactly the opposite, eliminating the opportunity for them to partake in the feeding frenzy.
On the positive side of things, fishing below these Mysis-filled reserviors has never been the same. The Taylor, Blue, and Frying Pan are now known for their huge trout that fatten up on Mysis shrimp. Mysis imitations are effective year-round, but make no mistake about it, they work best during higher flow regimes when a surplus of shrimp get washed into the tailrace below.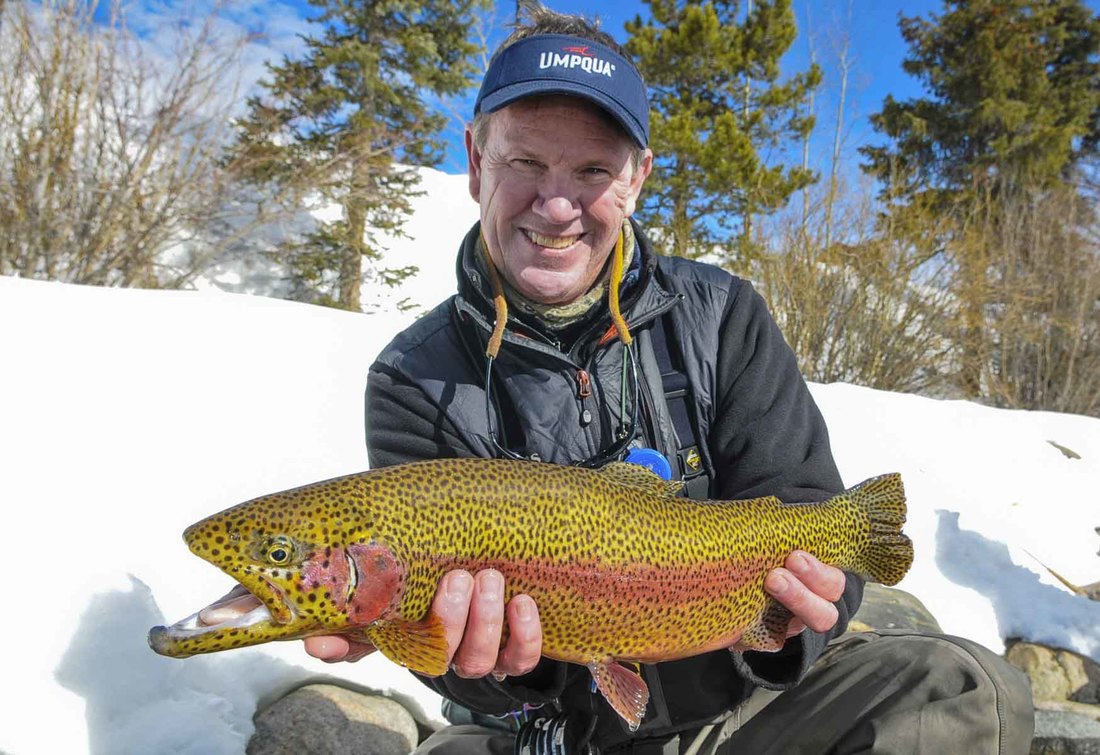 This beautiful rainbow was fooled with Joe Shafer's Laney's Mysis.Make sure you stock your fly boxes with an ample supply of Mysis Shrimp. Click on the above link to order your Laney's Mysis. John Keefover photo
​
Living Mysis Shrimp are transparent, but they perish shortly after they hit moving water. You'll see dead Mysis Shrimp frequently trapped in streamside vegatation or along the substrate, but stomach samplings show that the fish key on the transparent version readily. One of the key identifying features is the dark, prominent pair of eyes. During certain times of the year (i.e., the lake turning over, and higher flows during spring run-off), Mysis Shrimp flow from the base of the dam causing excessive growth rates and often gluttony.
Mysis-fed trout have extraordinary colors—rainbows have brilliant stripes and gill plates, and browns have reddish-orange tails with dazzling red spots. Trout that key on Mysis Shrimp can double their weight in one year and often reach weights of 10 to 15 pounds. When excessive amounts of Mysis Shrimp exit the dam, nymphing is explosive, in fact; there are many times when you can fish two Mysis Shrimp patterns at one time. Throughout the majority of the year (because the trout are completely aware of their presence), a Mysis shrimp is a good choice for an "attractor" for two or three fly tandem nymphing rigs.
The most effective method to fish a Mysis imitation is on the dead drift with a 9-foot 5X tapered leader. I often opt to use fluorocarbon (tippet) on the Taylor, Blue and Frying Pan rivers because of the river's clarity and selectivity of the trout. I recommend using two or three flies in your nymphing rig. This month's Mysis pattern is perfect for an "attractor" in your tandem rigs. Off the upper fly, drop an additional piece of tippet from the eye (or bend) and attach another small midge or mayfly nymph. Repeat this process if you opt to fish with three flies. Complete your nymphing rig by attaching a yarn strike indicator keeping it two times the depth of the current and a piece of moldable tungsten putty twelve inches above the upper fly. It's important to make the constant adjustments with the strike indicator and weight while nymphing.
I hope you can get out and target some Mysis-fed trout. We are blessed in Colorado to have so many wonderful year-round fisheries.
Share this Post