Craig Mathews of West Yellowstone, Montana invented the Sparkle Dun during the late 1980's. Mathews owns and operates Blue Ribbon Flies in the Yellowstone National Park area and is considered the local guru in the park region. Mathews has studied the Yellowstone hatches for more than 30 years and is the co-author of the Yellowstone Fly Fishing Guide, which is the authoritative book to the fabled Yellowstone area.
Mathew's Sparkle Dun is tied to imitate a variety of mayfly duns—green drakes, pale morning duns, blue-winged olives, Tricos, and red quills. Color and size varies depending on the species. The Sparkle Dun is my favorite blue-winged olive dun imitation. The Sparkle Dun "fishes" better than conventional hackled patterns because it sits flush in the film like the naturals.
Mayfly duns provide technical (small flies, long leaders, and super selective trout feeding in gin clear water), yet rewarding dry fly fishing in the spring, summer, and fall. The BWO Sparkle Dun is a must-have pattern for tailwaters and spring creeks in April and May and then again in September and October. Hatches often extend until mid-November in many drainages.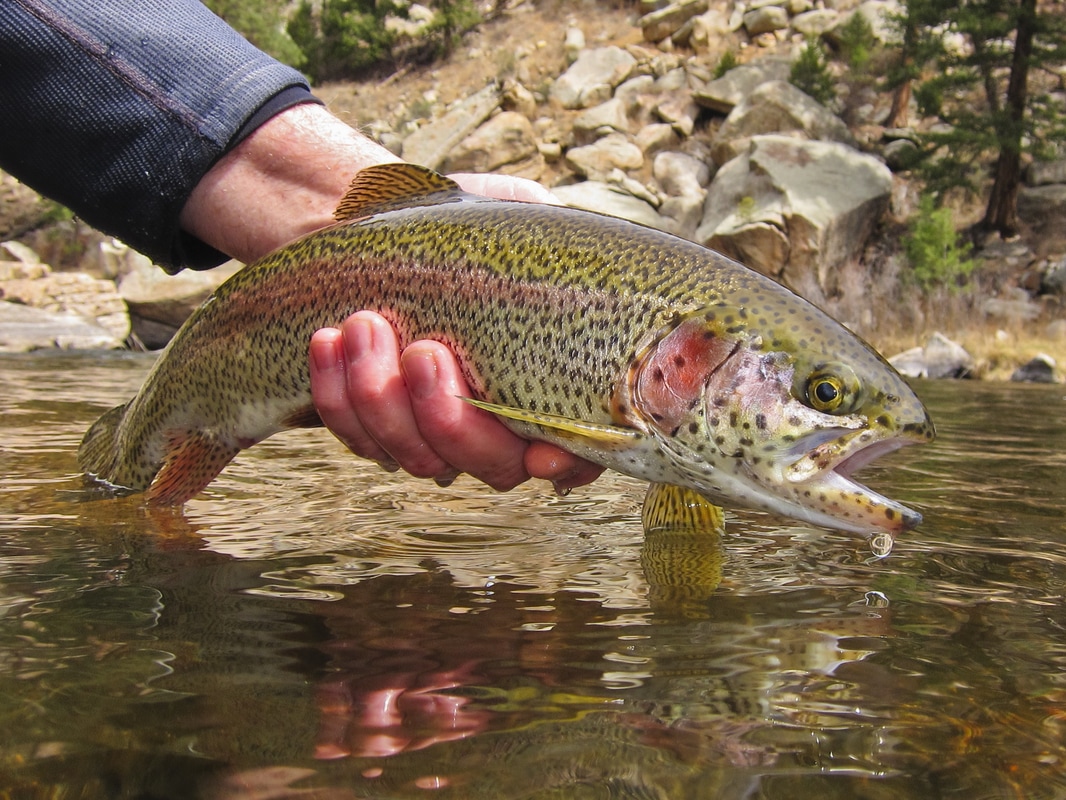 This beautiful South Platte Rainbow was fooled with a Mathew's Sparkle Dun. It is my go-to fly during the height of an "olive" hatch.
I typically fish my Mathew's Sparkle Duns with 9-foot leaders terminating in 6 or 7X tippet. I use 6X for size 18, and 7X for 20-22. If you are getting refusals with 6X, drop your tippet size down, and watch your drag closely.
If you notice your fly traveling faster than the current or creating a V above your fly, you may need to reposition yourself in the current to offset any conflicting currents. Sometimes changing your angle of attack can make a huge difference in a drag free presentation.
Another option is to use a slack line cast, such as a S cast or a reach mend to put a little slack in your line to keep the fly from dragging. In most cases, the fly only needs to float drag free for a few inches; so don't get carried away with super long casts.
I hope you enjoy this fly as much as I have over the years. Mathew's Sparkle Dun is a game-changer no doubt!
Share this Post