Churchhill's Sparkle Wing RS 2 Is A Must-Have This Time Of Year!
Rim Chung invented the original RS 2 (RS stands for "Rim's Semblance") in the early 1970s. It was tied on a Tiemco 101 (straight eye hook), had two split moose fibers for the tail, natural beaver fur for the abdomen, and saddle hackle webbing (fluffy stuff near the base of the feather) for the emerging wing. Chung's objective for designing the RS 2 was to come up with a simple, yet realistic nymph that imitated an emerging mayfly. The RS 2's predecessor (RS 1) had a wing case instead of an emerging wing.
Several variations of Chung's original pattern have been the result of recent innovation. These include the Mercury RS 2, Flashback Mercury RS 2, Whitley's Flashback RS 2, and Churchill's Sparkle Wing RS 2. Without a doubt, the Sparkle Wing RS 2 is my favorite! It can be tied in a variety of colors to imitate a wide array of mayfly mergers. For instance, tie it in olive and you have a Baetis emerger, tie it in dirty yellow and you have a PMD emerger, and so on.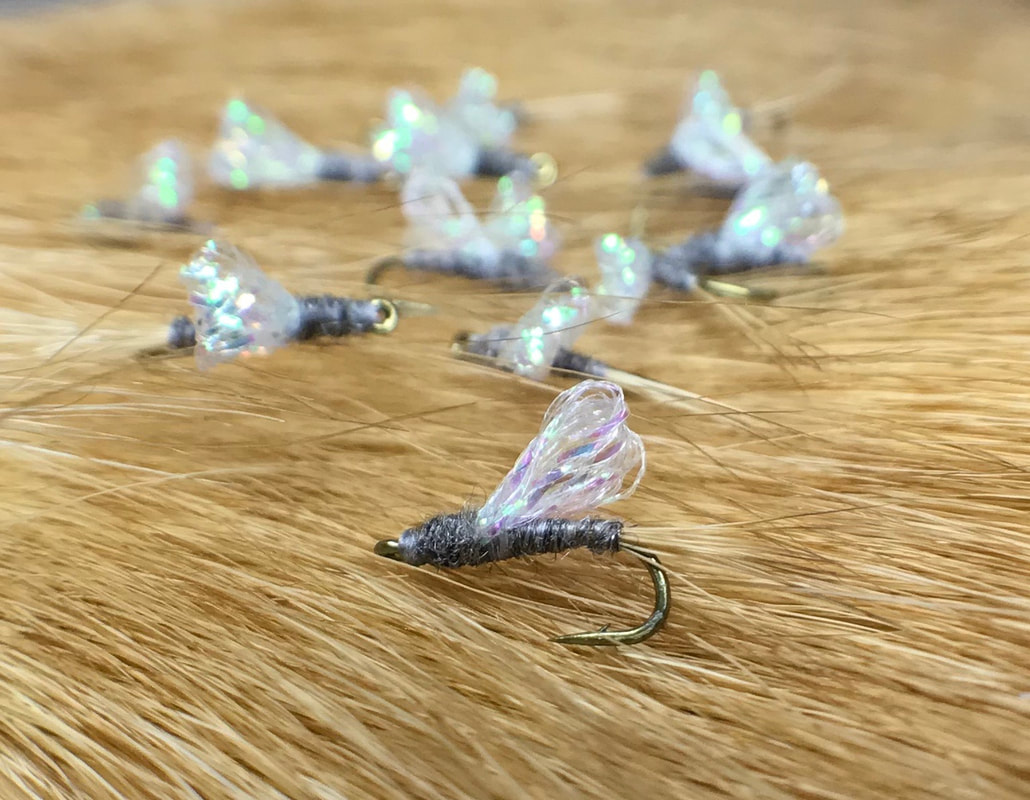 The Sparkle Wing RS 2 is a variation that Bob Churchill invented two decades ago. Churchill uses elk body hair for the tail, Adams Gray Supperine Dubbing for the abdomen and thorax, and Pearl braid for the wing. Its a souped up version of the original RS 2 that catches trout on both freestones andtailwaterfisheries. Forrest Dorsey photo
I have enjoyed success with an Sparkle Wing RS 2 in a variety of conditions. It's most effective prior to, and during a blue-winged olive hatch. During the spring and summer, I use a size 18 or 20 RS 2 emerger, and during the fall, I fish with a size 22 or 24. This rationale is based on the blue-winged olive mayflies (Baetis nymphs) being bigger earlier in the season, and getting smaller as the year progresses. In smaller sizes (#24-26), this pattern is also an effective midge emerger.
The Sparkle Wing RS 2 can be fished in different levels of the water column. During non-hatch periods, or during the initial phases of a blue-winged olive hatch, you should fish the Sparkle Wing RS 2 deep and drop it off an attractor like a San Juan Worm, blood midge, or egg pattern. As the hatch intensifies, fish this pattern off another mayfly imitation, mid column. According to Chung, "The RS 2 is an emerger, but it shouldn't be treated as a traditional emerger. It shouldn't be limited to near-surface fishing, but rather fished in a classical ascending manner. This fly should be fished as a nymph."​
I hope you enjoy this pattern as much as I have over the years. It is truly one of my top guide flies. Tie up a bunch of these–you'll be glad you did!
Recipe:
​Hook: #18-24 Tiemco 101
Tail: Elk body hair
Abdomen: Adams Gray Superfine Dubbing
Wing: Pearl Braid
​Thorax: Adams Gray Superfine Dubbing
Pattern Variations: Olive, black, brown, and PMD
Share this Post