The Mighty San Juan River
A recent visit to the San Juan River reminded me how fortunate I am to live in the central Rocky Mountains! As a Colorado native, I am truly blessed with an abundance of fishing options. The Centennial State is known for it's world-class tailwaters and renowned freestone streams. And, as an added bonus, anglers can drive 6-8 hours outside the state to sample legendary tailwaters like the San Juan, Big Horn, and Green Rivers.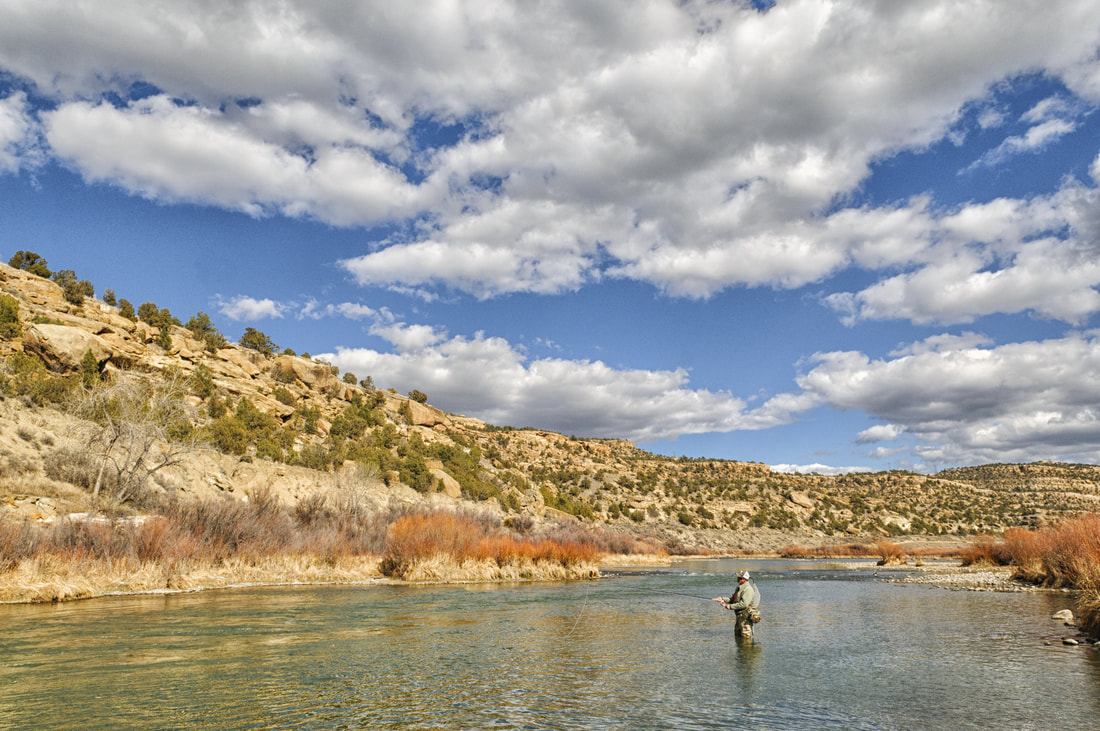 The San Juan River is one of America's favorite tailwaters. It supports a rich and diversified aquatic life, as well as a huge populations of trout. John Keefover works a smooth transitional zone with a red larva and a tiny midge pupa during a mid-day midge emergence.
​A group ofcolleagues and I headed to the San Juan River late last week. We departed Denver at 5 a.m. and arrived to Navajo Dam New Mexico at 11 a.m. Believe it not, we were fishing by noon! What else can you ask for? Our group of tailwater junkies found the fishing to be quite good! We fooled trout on an assortment of tiny midge patterns, Baetis nymphs in the afternoon, and an assortment of streamer patterns.
The nymph fishing was consistently good with egg patterns, red midge larvae, and tiny (size 24-26) brown and black pupae. We targeted the slower water, concentrating our efforts in many of the tailouts where the fish were stacked up. At 3 p.m. the blue-winged olives began popping (in the stretches above the Gravel Pit) so we switched to mayfly nymphs and fished the transitional zones that funneled into the deeper water. The trout were feeding hard on Baetis nymphs for about an hour. I also saw a few fish feeding on mayfly duns which is a sure sign spring is almost here!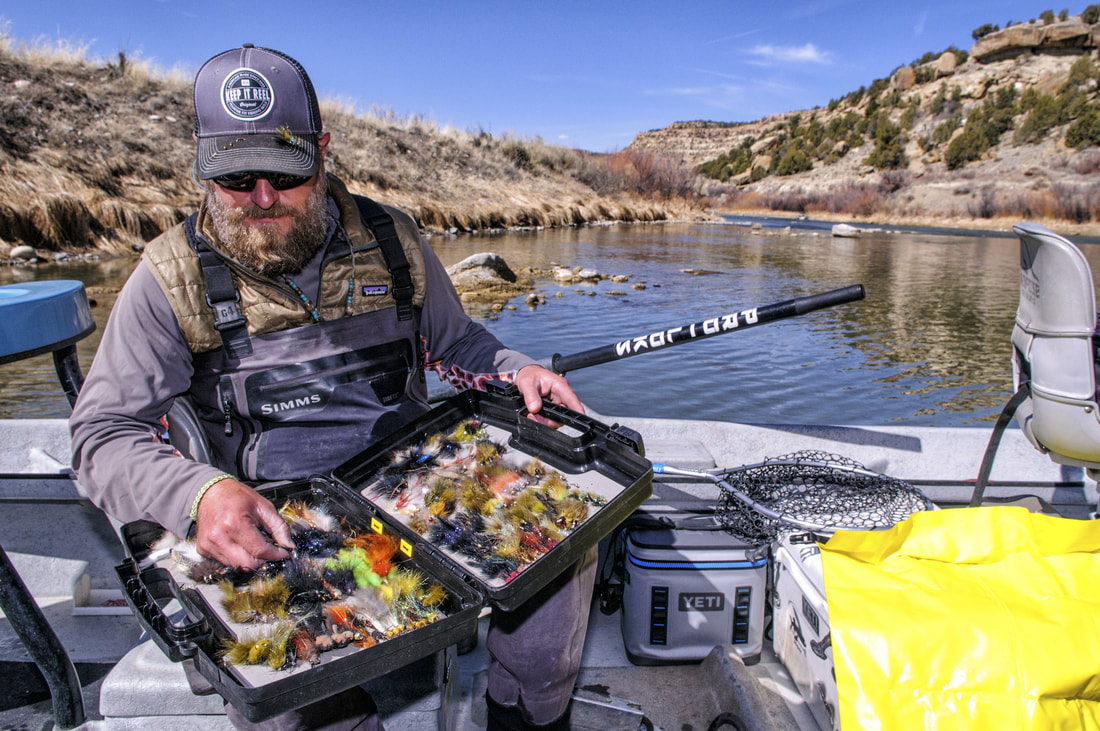 Success on many tailwater requires anglers to be well-rounded. Don't be afraid to think outside the box from time to time and throw streamers. Jeff Massey, head guide at the Soaring Eagle Lodge, prepares to tie on streamer. We used 9 foot, 6weight rods with ten foot sink tip lines to get our flies down quickly and combat the wind.
During the non-hatch periods we found streamer fishing to be excellent. In some stretches we fished with big streamers incorporating aggressive retrieves, while others we found that a small olive Crystal Bugger with slow, short strips was most effective. Overall the streamer fishing was very productive! It's nice to mix things up a bit, especially after you have been staring at a strike indicator all winter.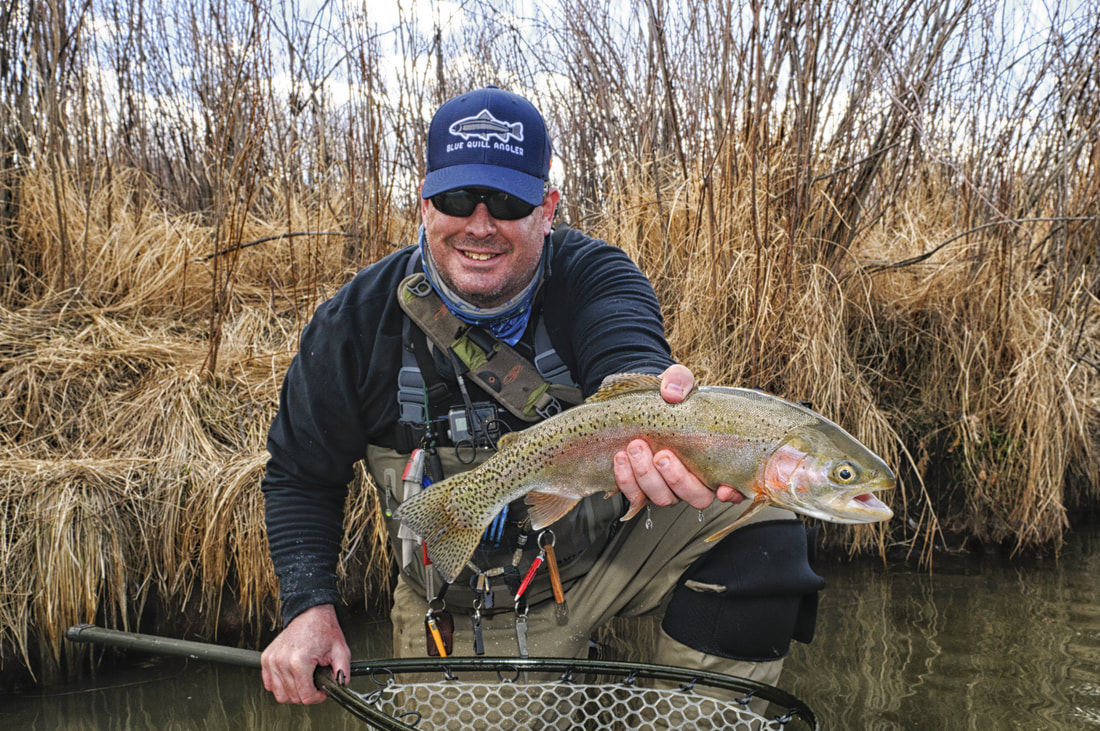 Joe Shafer fooled this beautiful rainbow trout with one of his streamer patterns. You can dead drift streamers or vary your retrieve by stripping them aggressively or slowly. We found a slow retrieve to be the most effective, targeting the slower water, where the biggest concentrations of fish are found this time of year.
The fishing on the San Juan River is about as good as it gets! I am already planning my next trip back. If you are looking for an excellent place to stay, I would highly recommend the Soaring Eagle Lodge. They have great guides, excellentaccommodations, and the food is off the charts!
Soaring Eagle Lodge
505-632-3721
info@soaringeaglelodge.net
Share this Post