Fly Fishing Guide to the South Platte River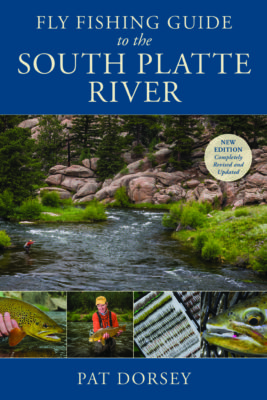 I'm happy to announce that a Fly Fishing Guide to the South Platte River is being completely  revised and updated.  It is expected to be in the warehouse by December 1, 2018, just in time for the holidays and show season!
While a large percentage of the information in my original project is still applicable today, a lot of the material is out-of-date.  Over the past decade the river has changed as a result of intense fishing pressure, changes in the aquatic life, drought, fires, and flash floods.
My goals and objectives for this updated version of a Fly Fishing Guide to the South Platte River is  to produce a reasonably priced book in a smaller format that can be put into your fishing vehicle for a streamside reference. The revised edition of a Fly Fishing Guide to the South Platte River has new photos, maps, hatch charts, and fly images with corresponding recipes. The text is broken down into separate chapters for each river location (e.g., Cheesman Canyon, Eleven Mile Canyon, Charlie Meyers State Wildlife Area, etc. ) to make it easy to navigate the South Platte corridor. Detailed maps pinpoint the holes and parking facilities in each location.
There are also individual chapters on hatches, tactics, tips, techniques and much more to help you become a better angler.  There are numerous side bars on important topics like the Hayman Fire, Whirling Disease, Streamflow Data, etc. all of which will be helpful. As an added bonus, regional experts like Landon Mayer, Greg Blessing, Jeremy Hyatt, Chris Wells, and many more lend their expertise on the locations they guide on. They were willing to share their valuable information which is a win/win for everyone.
You can pre-order a signed copy at the Blue Quill Angler (www.bluequillangler.com). The cost of the book is $34.95, plus applicable shipping fees.
Share this Post