Cheesman Canyon Sediment Update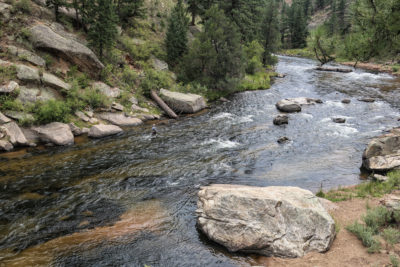 As many of you are aware, on July 6, 2018 nearly 4 inches of rain fell over the Hayman Fire Burn Scar causing huge sediment slides in Cheesman Canyon. Within hours, the decomposed granite was entering the river and reeking havoc on one of Americas top trout streams.
The good news is Denver Water stepped up to the plate and helped out immensely with raising the flow to nearly 400 cfs. 6 weeks later, the sediments are beginning to disperse, but it is moving to other locations, especially the low gradient sections.
So far, it's not affected the aquatic life or fish as much as I thought it would, which proves that Mother Nature is pretty resilient. We are seeing good a.m. midge hatches, followed by great afternoon PMD and Baetis hatches. For some reason, we have not seen Tricos in the canyon, yet they are hatching heavy in Deckers.
The trout have weathered the storm and are fat and sassy which is good news! Looks like we dodged a huge bullet, but we are not out of the woods yet. The substrate is still clogged with sediment in many areas, and the worse thing, is I think we lost an entire year class of rainbows in many areas because the fry were not out of the gravel. The rainbows in Cheesman Canyon spawn until the last week of June because of the ice-cold releases from Cheesman Dam. We might not see the ramifications from this for a couple of years. The areas most-affected were between Indicator Rock and the Emerald Pool.
Share this Post