Spring Run-Off Update: A Close Look at the Centennial State's High-Water Season
Spring run-off is prevailing in most locations in Colorado, but don't let that fool you; anglers are still catching some nice fish if they target the right locations and use the correct strategies during the high-water season. There is no doubt the state's freestones are blown out from a record setting snow pack, but there a few tailwater fisheries that are providing die hard fly-fishers a small window of opportunity to capitalize on some good fishing!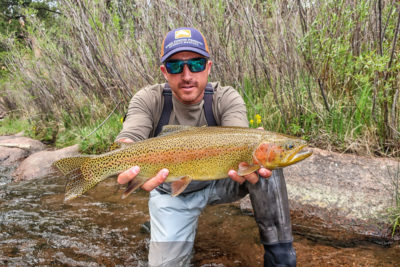 Jake Perkins fooled this nice rainbow on the South Platte near Deckers. Flows remain low until Cheesman Reservoir fills. Currently the reservoir is about 11, 000 acre feet from filling, but Denver Water expects it to fill fast, within the next couple of weeks.
Look for these windows to close soon, as water levels are rising rapidly, filling our stillwater impoundments quickly. Once Colorado's lakes and reservoirs are full, and flowing over the spillway, we'll have "high" water statewide.
I suspect run-off will peak in the next two weeks, then our streams should start to clear and recede slowly. In the meantime, savvy anglers need to target the edges of the stream with big-bites including leeches, stoneflies, aquatic worms, scuds, craneflies, and so on.
It's gonna be an epic year of fishing, with above average flows lasting until the autumn season. After last years drought, no one is complaining about water, as its better to have too much, instead of suffering through another low-water year.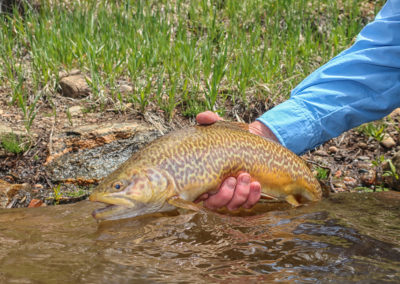 You don't have to quite fishing when the water is stained from run-off. This beautiful tiger trout was fooled with a Chamois Leech in muddy water. When spring run-off prevails, use brightly colored flies, flashy bead heads, and big-bites like stoneflies, aquatic worms, craneflies, and leeches.
Here is an up-to-date list of river levels on some of the most popular fishing destinations in Colorado. This should help you decide where to fish. It's a great time of year to target stillwaters as well.
South Platte below Spinney Reservoir, 540 cfs
South Platte below Elevenmile Reservoir 197 cfs
South Platte below Cheesman Reservoir 157 cfs
Blue below Dillon Reservoir 908 cfs
Colorado at Parshall 1100 cfs
Colorado near Kremmling 2900
Eagle near Gypsum 4820 cfs
Frying Pan below Ruedi Reservoir 429 cfs
Roaring Fork near Glenwood Springs 8000 cfs
Gunnison near Gunnison 5150
East near Almont 2940 cfs
Taylor below Taylor Park Reservoir 611 cfs
Conejos below Platoro Reservoir 44 cfs
Rio Grand near Creed 1230 cfs
Arkansas below Salida 4380 cfs
Animas near Durango 6660 cfs
Delores below McPhee Reservoir 3380 cfs
Cache La Poudre River near Fort Collins 1830
Yampa below Stagecoach Reservoir 123 cfs
Yampa at Steamboat 3800 cfs
We'll keep you updated in the weeks come on current fishing conditions. Use our stream report for current conditions and fly selections. Also, don't forget to follow us on Instagram (Pat Dorsey Fly Fishing) for the day-to-day action, tips, and other helpful suggestions.
Share this Post