Cheesman Reservoir Spills
Cheesman Reservoir reached full pool and began spilling late Friday night. This is great news for South Platte enthusiasts, as last year's drought is now a recent memory with a well-above average snow pack.
According to Dave Bennett at Denver Water, "Cheesman will be spilling for a while and our folks will blending spill water with the bottom release to hit optimum temps for fish. Fishing should be great!"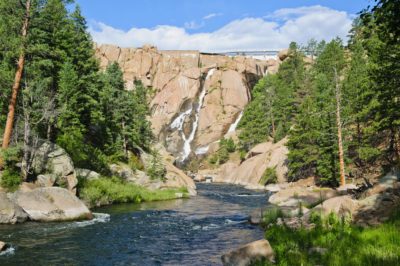 Cheesman Dam is currently spilling. Denver Water is releasing 700 cfs off the bottom, which is mixing with water flowing over the spillway. As I write, there is approximately 100 cfs coming over the spillway, with more to come in the following days.
Toward the headwaters, inflows into Spinney Reservoir are at 627 cfs, and on the rise from the recent heat wave.  This combined with creeks like Tarryall, which are flowing 247 cfs, and some smaller tributaries like Goose Creek, the river can easily approach the 1000 cfs mark. And, that does not factor in the monsoon season which is right around the corner.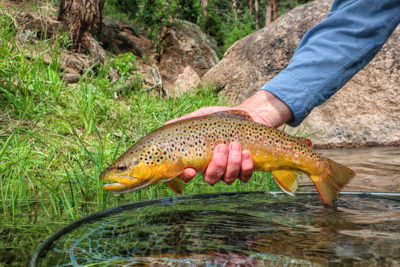 The South Platte trout are super happy now with above average flows and warm water temperatures. The river is flowing outside its banks, but its not a problem, if you pick and choose your spots wisely.
Currently the water temperatures are in the low 52 in the upper canyon, middle 50's in the lower canyon, and warming more as the river flows towards Deckers. Fly-fishers need to keep an eye on water temps near Deckers and voluntarily quit fishing if the temps get above 67 degrees.
Anglers can expect to see hatches of midges, blue-winged olives, and caddis right now. Don't be afraid to throw some big-bites either, as scuds, leeches, craneflies, and stoneflies are fooling some nice fish too. The previously mentioned flies are great attractors in a tandem nymphing rig trailed by a Baetis nymphs or caddis pupae.
We'll keep you updated on changing conditions. Run-off should peak in the next few days and begin to slowly receded. We're gonna have an epic late-summer season with plenty of water heading into autumn. I can't imagine things being any better.
Share this Post