South Platte Update…Run-Off Still Prevails
No one is complaining about the high water, especially after last years drought! I think most would agree–I'd rather have too much water, than not enough! Last year's drought, combined with a flash flood that dropped four inches of rain in one afternoon, caused severe damage in many locations.  Several washouts containing decomposed granite and other debris, filled in popular holes like Hell's Half Acre, Rainbow Pool, Blitz Riffle and Pool, Super Pool, and Cattle Crossing, and clogged the substrate in other areas with insect choking sediments.
Denver Water came to the rescue, with a small flush of 400 cfs, but it wasn't enough.  The thought was priceless, Denver Water despite what many people think, truly cares about the fishery below Cheesman Reservoir.  Denver Water gave the resource H2O that they really couldn't spare, because for the first time in several years, the reservoir did not fill. South Platte regulars like myself, really appreciate your efforts!
The good news is that this year's high, scouring flows, are pushing tons of decomposed granite on its way downstream.  Only time will tell, but it appears we are moving in the right direction, cleaning up the clogged substrate and deep holes that were filled-in by this tragic event last July.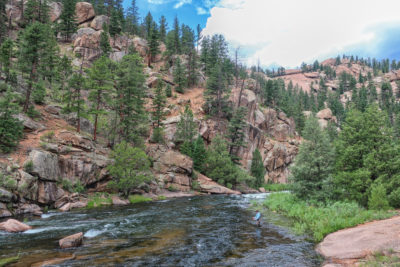 Flows are well above average for this time of year. Savvy anglers like Billy Aud are not letting the high water keep them away, as they understand that the increased volume of water, combined with ideal water temperatures, produce some of the best fishing of the year.
Currently, the South Platte in Cheesman Canyon is flowing 862 cfs (flowing outside it's streambanks as pictured) with 353 coming over the spillway, and the rest off the bottom. Spillway temps are 71 degrees, and the bottom valves are 43 degrees. Combined outflow temperature is 53 degrees in the upper canyon right now.
Denver Water is doing an great job of managing the water temps closely! They try hard to keep the water temperatures between 50 and 60 degrees. 55 degrees is optimum for trout and the aquatic life they feed on. Daily, Denver Water checks and tweak the flows as needed. The angling community really appreciates this…thank you for a job well done!
In the upper reaches of the canyon, anglers should prepare themselves for hatches of midges, blue-winged olives, and sporadic caddis. On the lower stretches, were seeing better hatches and more activity from the trout. In addition to midges and blue-winged olives, were seeing strong hatches of caddis (because of warmer water) and sporadic yellow sallies. Also, don't forget about scuds, as they still continue to produce good fish on a regular basis. A size 14 or 16 orange UV Scud has been deadly during the high-water season. Don't forget about olive scuds, craneflies, leeches, or stoneflies, they are a good choices as well.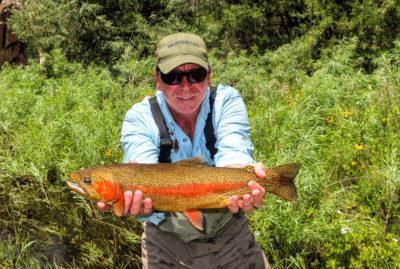 Billy Aud is all smiles after fooling this 21 inch rainbow on an size 14 orange UV Scud.  A Scud is  a excellent attractor this time of year, trailing a midge, Baetis nymph, or caddis imitation behind it.
Nothing should change anytime soon, as inflows remain strong and the snowfields have plenty of white stuff left.  Nighttime lows have been in the 40's in the high country, so the melt continues. This all bodes well for superb autumn fishing!  Some might say; the best is yet to come!
Share this Post