5 Tips to Catch Stubborn Winter Trout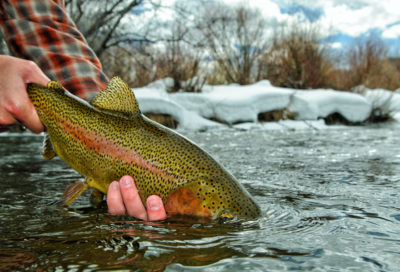 Odd as it might sound—winter is one of my favorite times of the year to fly fish.  Anglers willing to endure the elements can  find a little solitude and a few feeding fish on almost any winter outing.  Winter fishing is oftentimes the most technical fishing of the year.  Fly-fishers need to bring their A game as low, clear flows, ice-cold water, sporadic hatches, and lethargic trout all add to the challenge and complexity of the winter season. Add extreme air temperatures and nasty weather to the equation and things get real interesting! Here's 5 tips to increase your productivity during the winter months.
Finding the trout:  Tailwaters are your best option during the winter months as freestones (unregulated streams) are typically jammed with ice.  Even during the coldest months of the year, tailraces remain ice-free for several miles below the dam.  Between November and March, trout reside in the slow runs and deep pools.  These areas provide trout with the largest quantity of food, while expending the least amount energy. Stay away from fast riffles and runs as these areas typically have fewer fish.
Window of opportunity: The best fishing is between 10 a.m. and 3 p.m. If the water temperature is below 40 degrees, chances are pretty good you'll have difficulty finding feeding trout. Oftentimes the best midge emergences occur mid to late afternoon when the water has warmed up a few degrees. There is no need to get to the river early—it's simply a waist of time!
Downsize your tippet: 6 and 7X tippets are mandatory for winter anglers. I recommend using 6X fluorocarbon for nymph-fishing and 7X monofilament for dry fly fishing. Make sure you carry an extra spool of each in your vest or waistpack, as running out tippet at the most inopportune time can affect the outcome of your day.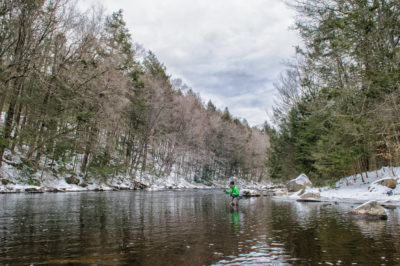 Trout overwinter in the slower pools and deeper runs. Concentrate your efforts in the slow water margins and stay way from faster riffles and runs as they have fewer fish.
Think simple, sparse, and most importantly small:  The bulk of a trout's diet during the winter is midges. Familiarize yourself with the midge lifecycle (larva, pupa, and adult) as you'll need to regularly imitate the various stages of their life cycle  for the next several months. Oftentimes, the difference between catching fish and not catching fish, is tying on a size 24 midge imitation instead of a 22. When in doubt—error on the small side!
Adjust your weight: The old cliché, "The difference between a good angler and a great angler is one split shot", is not far from the truth! All kidding aside—make sure you adjust your weight regularly, keeping your flies in the correct feeding zone. I begin with a size 6 split shot; then use JP's Nymphing Mud (a moldable tungsten putty) over it to make adjustments. Fishing larva requires anglers to dredge their imitations along the substrate where their great concentrations are found. Pupae on the other hand, should be fished mid-column. Observation goes a long way here. Pay close attention to where the trout are positioned in the water column and make the necessary adjustments.
These are a few tips that should help elevate your winter game to the next level. I hope you get the opportunity to get out soon!
Share this Post