Pat Dorsey Invites you to the Brazilian Amazon to Target Peacock Bass November 13-21, 2020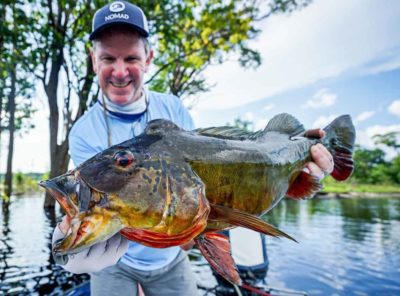 The Blue Quill Angler and Nomadic Waters have teamed up for a trip of a lifetime to the Brazilian Amazon. A Nomadic Waters Expedition to the Rio Negro River is one of the most unique adventures in the world. This world-class experience includes living aboard one of the finest motherships in the Amazon, eating delicious Brazilian food, and being guided by a top notch group of Nomadic Waters professional guides. A trip to the Amazon is a life-changing experience!
The accommodations are aboard the incredible yacht Eyruna. There are three guest levels, 40' wide and 108' long, she holds everything you could possibly want from a mothership, including a jacuzzi and sauna. There are 9 single occupancy and 2 deluxe double-occupancy cabins, each room has its own private bath, refrigerator, and individual air conditioning system.
Guest have the opportunity to fish for some of the jungle's most exotic fishing, including multiple species of peacock bass, arowana, wolf fish, and more. Each morning two guests and a guide head into the jungle for the day, then return to the Mothership at night for appetizers and dinner.
Expect to see (and hear) macaws every day. In the Rio Negro you will literally see a dozen or more a day migrating between their roosts. Green parrots are everywhere, as are caiman, spider monkeys and howler monkeys. If you stop fishing and look closely, you can see toucans almost every day, but they are silent and can hide extremely well.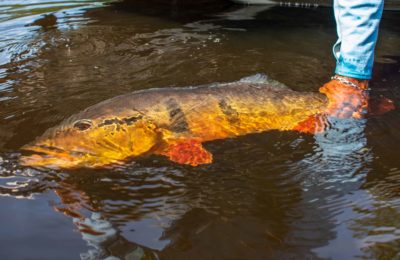 A trip to the Amazon is a life-changing experience. A trip to Nomadic Waters should be on everyone's bucket list. 
2020 Pricing:
With the exception of gratuities and meals in Manaus, this one price covers almost everything once you arrive in Brazil. A 50% non-refundable deposit is required to hold your place.
$4950.00 for 8 nights in-country and 6 full days of fishing (If paid in full by April 1, 2020.)
$5300.00 if paid after April 1, 2020. (You save $350.00 if paid byApril 1, 2020.)
This includes airport transfers, hosts, and translators in Manaus.
Single occupancy hotel room for the first night in Manaus and your last day in Manaus.
Round trip charter flights to Baracelos where the Mother Ship will be waiting for you.
Global Rescue Insurance – covers entire trip with Nomadic Waters.
What's not included in this price:
Your airfare to Manaus.
One lunch and one dinner in Manaus.
Alcohol. Domestic beer is included. You can bring your own alcohol by simply purchasing it in a duty free shop at the Miami airport.
Gratuities for the staff and crew. 10% of the package price is recommended. A $20.00 tip for your host in Manaus is also appropriate.
If you want to be part of this trip of a lifetime, please contact me at your earliest convenience. I can be reached at 720-331-6246 or patd@bluequillangler.com
Share this Post