South Platte River Update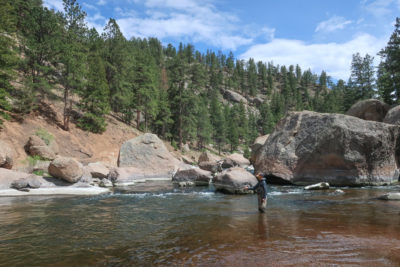 Many anglers are wondering why the South Platte below Cheesman Reservoir is so low this year? The general consensus is we had an above average snowpack so this leaves many anglers shaking their heads,  wondering what happened to all the white stuff?  I am hopeful that these words will help clarify things.
For the past 30 years, I have been blessed to have a great relationship with Denver Water and the City of Aurora. They have always been so helpful and willing to assist in providing valuable information.  The Roberts Tunnel was shut off this past winter (a decision that is made in November each year with regard to downstream demand), which means Denver Water had to rely on Cheesman Reservoir to fulfill its water needs. Unless there is a call for water, Denver Water cannot move water into the city via the North Fork of the South Platte; it's simply against the law. Unfortunately the spring snow storms didn't pan out like everyone hoped for, so the snowpack was about average for the year. Toss is heavy spring winds and a lot of evaporation and you have a huge problem.  Once the Roberts Tunnel was opened (moving water from Dillon to Denver via the North Fork of the South Platte River), Cheesman Reservoir outflows were dropped to a mere 75 cfs in an effort to fill the lake.
Currently Cheesman Reservoir is at 60 percent capacity, which means it is 31,000 acre feet below full pool. There is light at the end of the tunnel and Denver Water believes they can fill Cheesman Reservoir this summer if the rely heavily on Dillon Reservoir to supply water to the Denver metro and outlying areas.
Currently Spinney Mountain Reservoir is about one week to 10 days from filling according to the City of Aurora. Once Spinney Mountain Reservoir fills, the City of Aurora plans to match incoming flows. Inflows appear to have peaked at 390 cfs, which is a good indication that spring run off is over and flows are receding. Eleven Mile Reservoir is at 102 percent, so everything will pass through, flowing downstream into Cheesman Reservoir. Tarryall Creek peaked at 200 cfs, but is dropping fast, and currently flowing at 160 cfs, adding some additional water to the South Platte corridor above Cheesman Reservoir.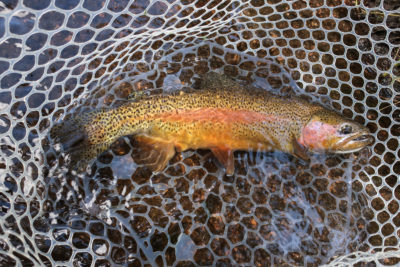 Until the flow improves below Cheesman Reservoir it important to protect our finned friends. Keep them wet and release them quickly to ensure they fight another day.
As stewards of the environment, it's important to do our part.  Please pinch down your barbs, keep the trout in the water at all times, even when removing the hook, wet your hands before handling them, and  and keep your photos to a minimum. This is not the time for hero shots! Water temperatures at Deckers are already reaching the mid 60's on the lower river near Scraggy View, so it's important to watch them closely and stop fishing when they hit 67 degrees. Closer to the dam, the water temps are in the mid 40's, but quickly rising to the mid 50's by the early afternoon.
I hope and pray for some rain and a good monsoon season to help assist in flow management. It will take everyone working together to get through this unexpected low water season. If you have any questions or concerns, please don't hesitate to reach out to me at your earliest convenience. My email address is patd@bluequillangler.com or DM on Instagram or Facebook.
Share this Post