The South Platte Watershed: News You Can Use
Over the years, I've been blessed to have a great working relationship with Denver Water and the City of Aurora. They've always willing to share valuable information that makes my job easier as a professional guide. Having insight on flow projections, maintenance, as well as their day-to-day operations, helps me develop a game plan to increase my odds of selective catching trout.
It's been an interesting water-year to say the least.  Outflow below Cheesman Dam has been running at a mere 75 cfs for a large part of the summer in an effort to fill Cheesman Reservoir.  In my 30 years of guiding the South Platte, I cannot remember low flows like this. But there is light at the end of the tunnel: Currently the reservoir is 98% full, which is fantastic news! Mid-week, Denver Water began increasing outflow as Cheesman Reservoir is almost at full pool.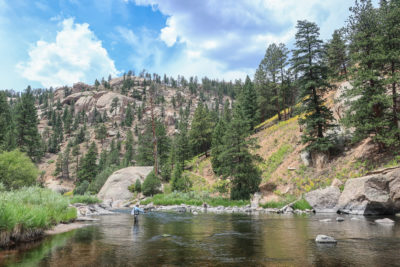 Outflow below Cheesman Reservoir has been at 75 cfs since late May to assist in filling up the 79,000 acre foot still water impoundment.  Cheesman Reservoir is now at 98 percent capacity, so Denver Water is ramping up outflow to match inflow.  Denver Water has opted to not let the lake spill which is great news. This guarantees ideal water temperatures for the remainder of the summer season.
"The reservoir will not purposefully fill and spill this year. Outflow will ramp up to match inflow once the reservoir is closer to full. Due to upstream rain, we've seen inflow to Eleven Mile increase, we are currently lowering Eleven Mile off the spillway for a project to replace the flume below Eleven Mile. Because of increased inflow at Eleven Mile, we have had to increase outflow to be off the spillway and down 1 foot before September." says Gianna Lombardi from Denver Water.
Denver Water plans on starting the project on Eleven Mile Reservoir mid-August. The City of Aurora is assisting Denver Water by limiting the amount of water they release out of Spinney Mountain Reservoir while they are doing the work. "Starting in the beginning of September, the outflow from Spinney will be limited to 65 cfs. This flow limit could last through mid-November" says Brian Fitzpatrick from the City of Aurora. The City of Aurora believes that the flows will stay around 300 cfs (give or take) until the end of August. Everything is subject to change due to weather patterns, however. Then the City of Aurora will gradually reduce the outflow to 65 cfs by the end of the month.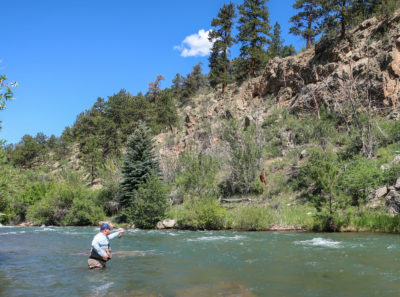 The North Fork of the South Platte is currently flowing at 450 cfs, but things are gonna change dramatically mid-to-late August when the Roberts Tunnel is shut off for maintenance and hydro upgrades. Denver Water will supply its downstream demand via the South Fork of the South Platte, relying heavily on Cheesman Reservoir to meet is needs.
The North Fork of the South Platte has been running high all summer to meet downstream demand. Currently the flow is 450 cfs, but that will change soon as Denver Water will be shutting off the Roberts Tunnel to conduct some hydro upgrades and maintenance on the tunnel.
"On August 20 Denver Water will begin to shut down Roberts Tunnel and allow four days to drain the tunnel and ensure the west portal gate is sealed by Aug. 24. On Aug. 12, we will begin shifting flow from Roberts Tunnel to Cheesman. We will be cutting 50 cfs a day from the tunnel and increasing Cheesman's flows by 50 cfs a day for seven days before the tunnel shut off begins on Aug 20" Lombardi added.  The Cheesman outflow strategy may change though, as the reservoir filled quicker than anticipated. Outflow is dependent on weather patterns and downstream demand. Denver Water is not sure when the tunnel will be turned back on, but they'll keep us posted on any updates.
I am hopeful this information helps you plan your fishing trips for the remainder of the summer and autumn season within the South Platte corridor. If you have any questions or concerns, please reach out to me at your earliest convenience (patd@bluequillangler.com), as I am always willing to help.
Share this Post